Make the most of a DC Area Furlough
So you're looking at a shutdown/furlough combination. Plenty of places, like the Washington Post have info on what will be open, but I had more important questions in mind: what to do!
Shutdown-specific ideas:
For hungry or thirsty federal employees, there are a number of restaurants and bars offering food and drink specials for federal employees. The Washington CityPaper has a pretty comprehensive list and a great flowchart for the decision-making challenged. WJLA has another compilation. Here's a Google Map of offers, and Eater DC is keeping a list of those whose specials will last the length of the shutdown.  
  Among many of my favorites, Taylor Gourmet is offering feds with ID a 10% discount, free cookie and career counseling, with the purchase of a hoagie or salad. And for the day drinkers, Glen's Garden Market is providing federal employees with ID a free pint of their all-local draft beers from 10 a.m. to 12 p.m. each day. 
For those looking for things to do, DCist has some suggestions.  The CityPaper has a Tourist's Guide to the Shutdown. 

I also asked readers and coworkers for your ideas on how to spend some time, but not a lot of money, and you delivered.  Here are some of your many suggestions— thanks to all who contributed, and keep the suggestions coming!
Ideas for the indeterminate future: Many of the usual free opportunities won't be available, as the Smithsonian, Zoo, and National Gallery will go dark in the event of a furlough.  But here are some other options that people have brought up:
Get outdoors: the weather is beautiful, even if it weirdly feels like you're having a snow day!

 

Go ride a Bike

: The National Park Service has shut down some trails, including apparently the Mt. Vernon and Capital Crescent, but several city operated trails are open in DC, Arlington and beyond.  And Capital Bikeshare is still open for business, and now in Montgomery County!  

 

Start (or step up) your own Fall Fitness Challenge. See how many miles you can run, or how many pushups you can complete, before coming back to work.

 

  
Take a day trip: 
Head for the hills, and combine a hike in a Virginia or Maryland State park (like Sky Meadows, or Cunningham Falls) with apple or pumpkin picking, and perhaps a stop at a local vineyard. 
Head to Frederick and wander through its adorable downtown, taking advantage of Chef Brian Voltaggio's fed discount at the Family Meal, and free brewery tours for feds at Flying Dog.   
Skip up to Baltimore and check out the Baltimore Zoo (open while the National Zoo is closed), the National Aquarium, or one of the city's museums.  Make reservations for lunch or dinner at Woodberry Kitchen, or stroll through Hampden and grab a meal at the Hairspray-inspired Cafe Hon.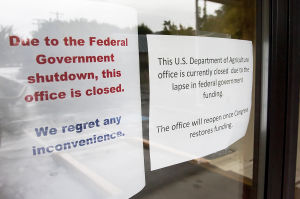 Play in a Park: The National Parks are out, but this is a great time to check out the regional and state parks available in Maryland and Virginia:  
 

Brookside Gardens (flower gardens, japanese tea garden, beautiful landscaping) adjacent to Wheaton Regional Park — beautiful and free!
Check out some new museums: The Smithsonians and the Gallery may be closed, but that's a great excuse to visit some of DC's other great collections.  

€

The Corcoran Gallery is open, as are other museums including the

 Phillips Collection, the Spy Museum, and the Newseum will all be open.

 

€

 

The National Geographic Museum is offering free admission to federal employees with ID to all of its exhibits, throughout the length of the shutdown, 

Hillwood Estate is another excellent way to spend an afternoon, as is Dumbarton Oaks (either the building or the gardens, or both!)

€

Not a museum, but the National Cathedral is also good for a tour, and a mile-high view of empty federal buildings across the city.

 
Go see a show: I'm not sure how the Kennedy Center will be affected, if at all, but
Several other area galleries and theaters will be open, including Arena Stage, the Shakespeare Theater Co, and the events at the Artisphere in Rosslyn.

 

Many theaters (stage and movie) are also offering discounts to federal employees.  Including 50% discounts (or buy-one-get-one deals) at many local theaters, and a free pair of Miss Saigon tickets at Signature Theatre when presenting a federal ID at the box office. 
Around the house:  it's a great time for starting new projects, or finishing the ones on your perpetual to-do list.
Switch out the screen windows for storm window

€

Replant your garden, or start a new one.

 

For apartment dwellers, all you need is a windowsill, soil and seedlings.

 

€

Start a new painting project, hang some photos, or sort through your closet for spring

€

Go the the public library and rent a movie (good for VA/MD residents, and for now, DC is planning to keep libraries open, at their new expanded hours).

Start a new series on Netflix or DVD—some recommendations that could keep you occupied for a week or more: The West Wing, Breaking Bad, The Wire, Homeland, Battlestar Galactica, orall 47,000 seasons of Dr. Who.
Finally, you could get out of town, but make sure you don't go too far, as notice of the shutdown's end could come quickly!  (If only we'd be so lucky).